Pricing Plans

Fantastic Labs, Great Courses, Affordable Pricing!

Why subscribe? Find out how you benefit on our info page .
Professional
$69 /month Subscribe Monthly
$828 $249 /year

Save 70% Subscribe Annual
Single User
2000+ AttackDefense Labs
Unlimited Lab Access
Private Lab Environment for every User
Access to All Content
Maximum 100 Video Plays** / month
Download Course Videos
Enterprise
Custom Plan
Multiple Users
2000+ AttackDefense Labs
Unlimited Lab Access
Private Lab Environment
Access to All Content
Download Course Videos
Dedicated Portal for your Team
Monthly Usage Reports
Invoice based billing
Account Manager
Priority Support
Contact Us
INE Premium+
$899 /year

Includes both INE Premium and Pentester Academy Professional access Subscribe INE Premium+
Everything in our professional plan PLUS:
Access to INE's entire course library
Github and Azure projects
All INE Cyber Security Labs
INE Live Bootcamps
Networking Workbooks
50% off an eLearnSecurity certification voucher
Cancel anytime. No Long Term Contracts :
Read the F.A.Q below for details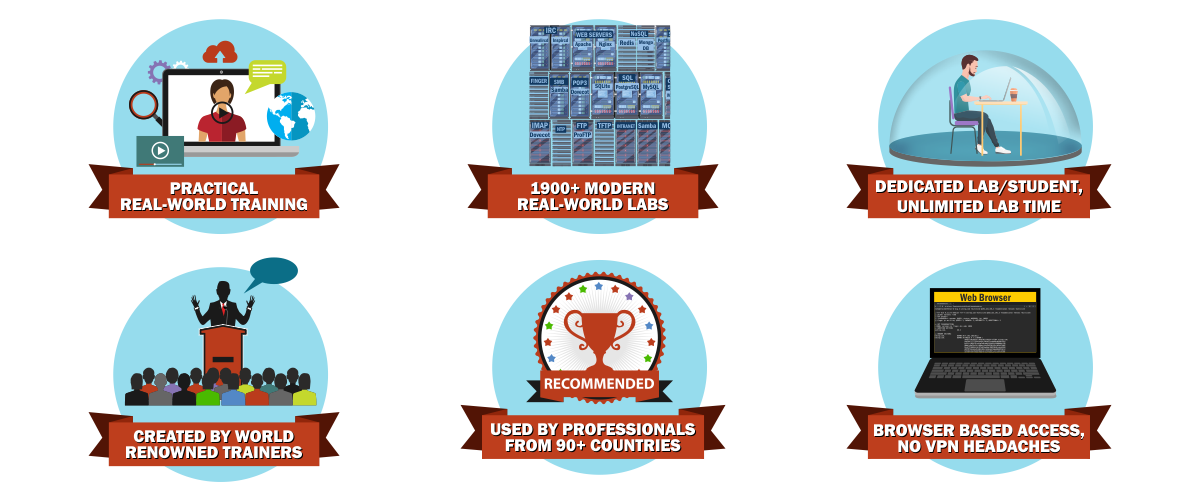 Your courses are one of the best practical trainings out there. I have seen Vivek presenting live in a conference, and I like his way of sharing knowledge. It is clean, understandable, and explains the necessary background information without me having to dig into a topic for hours to understand what's going on. Usually I am having hard time when looking for online, self-paced and on-demand trainings, which are technical without having to read again and again the high level concepts. It satisfies all my requirements for a technical training and it is very affordable! Best quality/price combo. Training material is well structured, practices after each section are great to help understanding the topic, exams are also great practical ones. You actually need to think and learn a bit to pass the exam, however the training covers enough details to pass them without much additional research. There are no pre-defined questions or answers.
– Lendvay Balázs
IT security specialist, Germany
F.A.Q

Please read carefully before signing up
1. What are the benefits of signing up?
Just too many to write here :) We've dedicated an entire page to benefits.
2. What topics are currently available?
Please have a look at the topics section for more detailed list.
3. Is there a Refund Policy for either the Monthly or Annual Subscription?
You can cancel your subscription at any time but we have a NO refund policy. Our goods are digital (course videos, PDF copy of course slides) and once a student has downloaded them, he has full access to our copyrighted material. We would encourage you to create a free account on PentesterAcademy and view some of the free videos in selected courses before purchasing. Our Terms of Service is available here.

4. How can I cancel an active subscription
You can login to your Paypal account and cancel the subscription anytime. Please note that once you cancel your portal access will continue till your current subscription end date e.g. if your subscription is set to renew on the 21st every month and you cancel on the 3rd, then your access to the portal will continue till the 21st of that month. As mentioned above, no refunds can be made for any payments already made.
5. When will be prices be increased?
The prices will increase as soon as we run out of promotional seats.
6. What is the 100 Video Plays** limit?
Every subscribed user gets up to a maximum of 100 Video Plays** a month. Anytime you either play a video in the member portal or download it, you consume 1 Video Play**. Partial video views or downloads are counted as 1 Video Play. Watching or Downloading the same video will be counted as additional Video Plays as well. In our experience, 100 Video Plays** is a sufficiently large number for an individual user per month. Any unused Video Plays for a given month are automatically added to the limit of the following month. Please note that you can only use any carried over Video Plays while you maintain your subscription. If you cancel your subscription, all remaining Plays are automatically forfeited.
7. Are there any alternate payment options apart from Paypal and Stripe?
Please drop us an email at feedback [-at-] binarysecuritysolutions.com
8. How long does it take to get access after payment?
Our team will get back to you within 24-48 hours of payment with the access details. Please whitelist email addresses from the domain binarysecuritysolutions.com, the parent company of Pentester Academy.
9. Is there a student forum?
No, there is no student forum available for this low-priced offering.
10. Do you regularly add new content?
New content is added to the website regularly - both labs and videos.
11. Are there any minimum requirements to use this portal?
We officially support Chrome, Firefox and IE on Windows, Mac and Linux desktops. Though we have not tested for other platforms such as tablets and phones, we have no reason to believe that it will not work on them. From a bandwidth perspective, the recommended minimum is 2 Mbps for fast viewing and downloading.
12. How do I login to the website?
We currently only support "Login with Google" so you will either need a Gmail account or a valid Google Apps account.
13. Is the Enterprise Security labs included with this subscription?
Enterprise Security Labs are not included with the Pentester Academy & INE subscriptions. They need to be purchased separately.
14. Are all bootcamp recordings included with this subscription?
No, only selected bootcamp recordings are included with the subscription. Only the video recordings and labs are included with the subscription and not other benefits which come with purchasing a dedicated bootcamp.
15. What is INE Premium+?
An INE Premium+ plan bundles an INE Premium plan and a Pentester Academy Professional annual plan. INE Premium+ is fulfilled by INE and is governed by INE's terms of service. INE Premium+ will also auto-renew from activation at the purchase price yearly unless canceled prior to renewal.
16. I have a question which is not covered above
Please email feedback [-at-] binarysecuritysolutions.com