Explained: Pentester Academy's Online Labs
Want to know more about our online labs, subscriptions and how they can benefit you? Here, you'll find everything you need to know about what they entail, access instructions and more!
Topics covered
Who should use our labs
Are Subscriptions Worth It?
Pentester Academy's Labs are...
A browser-based cybersecurity education platform
Containing 2200+ (and counting) hands-on exercises covering the latest topics
That help you start, supplement and supercharge your cybersecurity career!
The Latest In-Demand Cybersecurity Topics
Our content covers the latest technologies – AWS, Linux, DevSecOps and more! With 2200+ hands-on exercises and 1500+ video courses, you'll build pentesting skills that you can use in your job immediately.
Convenient, Browser-based Platform
Our labs are completely browser-based, private and include access to a Terminal/GUI-based Kali, Ubuntu or other operating systems, with the necessary tools and scripts pre-installed. You will not need any other software to get started.
Bootcamp Recordings for Select Topics, Accessible Anytime
Annual plans include access to recordings from selected bootcamps! With 70+ hours of video instruction and 200+ labs, learn at your own pace without time zone concerns. Follow along with instructors as they go through the labs, and progressively master in-demand topics!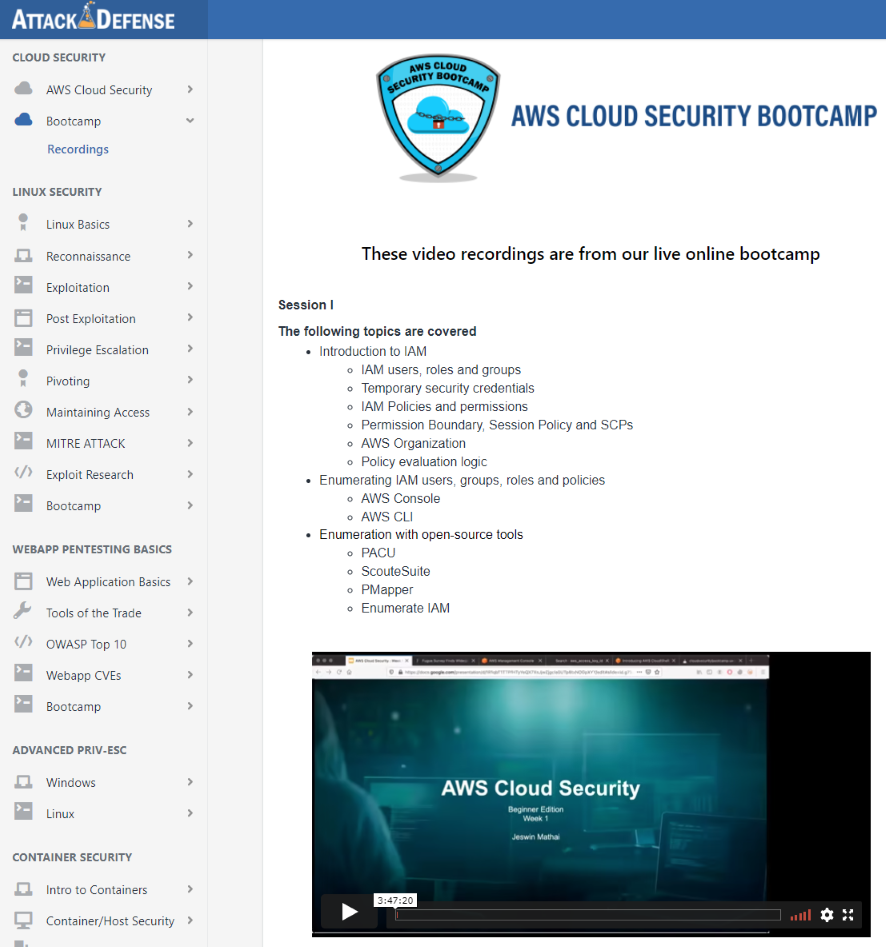 Suitable For All Learners
Beginners: Follow our learning paths to build a foundation in widely-used technologies. Check out the Linux Security Learning Path as an example.
Security professionals: Expand your industry skillset by delving into specialized topics such as Active Directory, reverse engineering, and malware analysis. For a preview into our technical depth, check out our sample lab walkthrough on buffer overflows.
Career switchers: Gain job-ready skills in the latest topics required by enterprises – AWS, DevSecOps, Windows Security and more! Refer to our Container Security Learning Path for a preview.
Stand Out with Verifiable Badges
We also offer badges to help you showcase your achievements! All badges are verifiable via Accredible and can be easily shared to attract potential employers.
How Do I Get Started?
AttackDefense access comes in 2 levels:
Free:

Access all free labs, such as our community labs and CTFs

Premium:

Unlimited access to all labs and badge challenges
To get started with free access, simply sign in with Google at https://attackdefense.pentesteracademy.com, or follow the instructions in the below video.
Or Subscribe For Unlimited Access!
Upon subscription, you'll enjoy the following:
Unlimited access to all labs
1500+ video courses to supplement your knowledge
Access to badge challenges
---
Are Subscriptions Worth It?
Absolutely! Here's how you benefit when you subscribe:
Advance your career
We love it when students get better in their careers, so we've structured our content to make sure you can succeed. Here's how a Pentester Academy subscription can boost your career:
💼
Get noticed by recruiters:
Earn verifiable badges on the latest topics like Docker security and have your profile stand out!
📜
Acquire job-ready skills:
We've mapped our topics to job requirements set by enterprises and government agencies.
🆕
Skill up, be diverse, stay updated:
Our coverage of the field is both diverse and comprehensive, with labs in over 35 categories. Master diverse topics and stay up-to-date with the latest developments!
Beginner-friendly with structured learning paths
We've structured popular topics into learning paths — curated sets of labs and courses that help you master specific topics. In each learning path, you'll start from the basics and move on to advanced concepts – all in the same environment. Our labs help you learn progressively so there's always a milestone within your reach. Within months, you'll be able to build a solid pentesting foundation.
Need guided help? Each lab includes a manual and walkthrough video so you can learn without interruption. We also emphasize fundamental concepts across multiple labs to reinforce your learning.
Bleeding-edge topics with massive breadth and depth
Enterprises today need security professionals familiar with the latest technologies: Cloud, Windows and Linux Security.
We cover all those topics, and more. Look forward to learning all the latest topics such as AWS Security and DevSecOps, in addition to mainstays such as Offensive Python and Shellcoding. View our complete list of topics
here
.
The fastest way to learn: hands-on practice in real-world scenarios
Watching an instructor attack a machine under "ideal" conditions will not give you a complete grasp of the subject. Instead, hands-on practice is the best way to develop pentesting skills.
With our labs, you'll practice in a safe, convenient environment, and receive instant feedback by checking your answers. All our lab exercises are based on real-world scenarios, so that when you're in a pentesting or red team engagement, you'll know what to do.
Great support from a trusted brand
Since 2011, we've trained thousands of professionals, from hundreds of enterprises, from 130+ countries. We're grateful for all the customer love that keeps us going. That's why you'll always see top-class support from us – in terms of responsiveness, availability and empathy.
---
What do current students have to say?
Since 2011, we have trained thousands of professionals from hundreds of enterprises and over 130+ countries worldwide. Clients range from Fortune 500 companies to law enforcement agencies – hear directly from them below!
The course was so well structured that I did not have to go back and brush up my Assembly language skills. The beauty with Pentester Academy is that you can come as a total newbie, register for a course, sit down and just learn at that pace.
- Vaibhav, Cybersecurity Consultant, India
"I had an interview in a big American company and Pentester Academy courses - especially web security and buffer overflows - helped me to answer questions like: 'What is your approach on attacking the web server?' and 'How does authentication work?' The interviewers were impressed, and I got the job."
- Vadim, graduated 2020, Canada
The most fascinating part is that you guys have programming. If you're going to pursue a career in cybersecurity without programming[…], you will be sort of disabled in some way. But Pentester Academy actually has courses such as Python for programming, TShark, Pandas and data science, so that gives you a friendly introduction to cybersecurity in a programming context. And that's relevant to what's happening in real-world scenarios.
- Abishek, Cybersecurity Intern and Freelance Trainer, UK
One thing I like about Pentester Academy is that it has that school sort of feeling. With at least some of the videos, there's an instructor actually explaining what they're doing, besides just typing it up on the terminal and saying, 'this is it'.
- Isabelle, Aspiring Security Professional, USA
---
Stay Updated
Sign up for our mailing list and get updated about the latest products, offers and news from us!